Products
Pultruded composites are a combination of high strength fiber reinforcement and tough plastic binders. The material can be described with high strength to weight ratio, anticorrosive properties, electrical and thermal non-conductivity, long life-span as well as low maintenance costs of the finished products. Our typical product range consists of insulating profiles for transformer and electrical engine manufacturers; however a variety of material for other applications is available.
For a closer look of our products and material specifications, please see our product catalogue. For questions about profiles that are not listed in the catalogue or profiles for different applications, do not hesitate to send us an enquiry!
We offer a wide range of insulation profiles to transformer manufacturers. Our portfolio covers a broad specter of dog bones, corner and rectangular profiles, which are commonly used as spacers and air gaps between coil and insulation in dry type transformers. Many standard dimensions are available as stock items with short lead times.
Electrical Engine Profiles
We produce slot wedges for electrical motors, where the slot wedge covers the copper wires and provides electrical and thermal insulation. Many trapezoid, half round and hybrid slot wedge designs are readily available.
U, L and Other Construction Profiles
Fiber reinforced U & L composite profiles are the basis of construction in situations requiring very good mechanical performance in combination with low weight, ease of assembly, electrical insulation and high degree of thermal endurance. Additionally, we offer complex machining of these profiles.
Reinforcement for concrete structures can be made of fiber reinforced plastics. The advantage is high durability in aggressive environments. This makes FRP reinforcement of special interest in applications where corrosion of the reinforcement can be expected. This is especially the case for structures subject to de-icing salts, marine environments or other aggressive environments.
Production
Our products are made using the Pultrusion process, a continuous automated manufacturing process which allows production of composite profiles in continuous lengths. Our typical composites compose of glass fiber reinforcement bound together by thermosetting matrices such as polyesters and vinyl esters.
Our customers can order ready-to-fit parts for their project without themselves having to carry out or source out next steps down the chain. We have on-site facilities for CNC machining, painting and varnishing.
We work in close collaboration with our customers designing and developing new products and services that meet and exceed their requirements. Our custom profiles are tailor made to meet the customers' specific requirements. Cooperation with Europe's leading chemical suppliers for the composites industry and research institutes ensures that we have your needs covered. Challenge us to create something unique!
Material Testing & Quality
Material testing is an integral part of our material quality. Fiberbar Composites has in-house high voltage testing capabilities for determination of electrical breakdown strength and a mechanical test unit for flexural, tensile and compressive strength. Our certified quality and environmental management system complies with the requirements of ISO 9001:2015 and ISO 14001:2015 standards.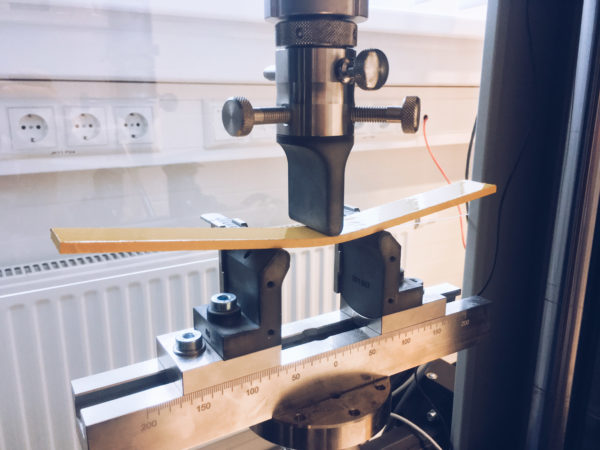 Fiberbar Composites OÜTiigi 18Jüri, Rae valdEE-75301 HarjumaaESTONIA
Phone: +372 621 3434E-mail: VAT No. EE101511016
Member of the Star Works Group